Ruth Osborne

Thomas Wilmer Dewing, The White Dress, 1901. Courtesy: Berkshire Fine Arts.
The story of the Berkshire Museum's massive deaccession sale and change of mission over the past 5 months has been one that mirrors a rapidly tottering see-saw.
We reported a few months back on the Berkshire Museum's planned sale of 40 masterworks in its collection due to failed finances and a decision to "rebrand" their institution. First, the Board of the Museum had decided to sell the works with Sotheby's before it actually cast votes in June and the public became aware. According to Keating, attorney for the sons of Norman Rockwell (two of whose works were deaccessioned and slated for auction), the Museum "could have avoided [the sale] if they perhaps…had been willing to discuss this two and a half years ago when they decided to sell the art". Keating has also told reporters that the Museum in fact engaged in talks with auction houses as early as 2015 in light of a failed capital campaign.
Then, two lawsuits were brought by several important members of the national arts community as well as the Museum's local community have taken a stand against the sale. These included the Massachusets State Attorney General, the family of Norman Rockwell, and current and former Museum members. On Wednesday, Nov. 1st, the Superior Court began hearing arguments.
Just 7 days later, on Nov. 8th, the AG's office submitted an emergency motion late in the day in order to try and halt the sale, which had been announced for November 13th. However, despite these measures, the judge proceeded to the decision that the Museum was acting within its rights.
AND THEN, after the AG launched yet another motion in an attempt to halt the sale on Friday morning Nov. 10th, Friday evening the judge agreed that the AG should in fact receive more time to complete the investigation into the sale. Due to this decision, works slated for auction this week have been removed from their sales at Sotheby's. The AG has reportedly been granted until December 11th to consider the legality of the sales.
As of this moment, the American Art sale at Sotheby's New York is ongoing, BUT there are several lots missing. Those being nos. 10-16:
10. Normal Rockwell, Shuffleton's Barbershop, est. $20,000,000-30,000,000
11. George Henry Durrie, Hunter in Winter Wood, est. $400,000-600,000
12. John La Farge, Magnolia, est. $200,000-300,000
13. Thomas Wilmer Dewing, The White Dress, est. $600,000-800,000
14. Augustus Saint-Gaudens, Diana of the Tower, est. $250,000-300,000
15. Albert Bierstadt, Connecticut River Valley Claremont, New Hampshire, est. $600,000-800,000
16. Normal Rockwell, Blacksmith's Boy – Hell and Toe, est. $7,000,000-10,000,000
Click here for more lots listed as "upcoming" in other sales at Sotheby's, particularly for this week's Impressionist & Modern Art Evening Sale (tomorrow @7pm) and Day Sale (Wednesday @10am). All these works are still to remain at Sotheby's until future decisions from the court.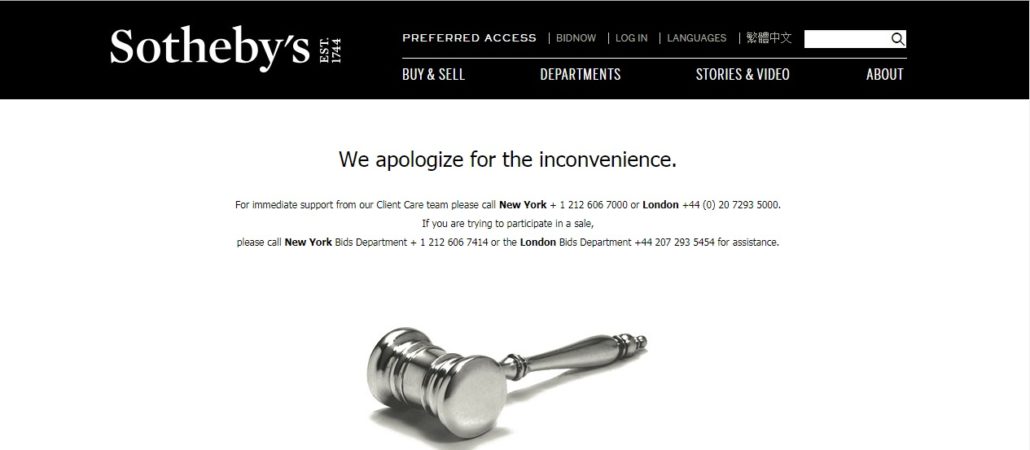 The Museum has also been issued a "Modern Concern Advisory" from Charity Navigator, an organization that evaluates non-profits based on financial documents and, in particular to the Berkshire case,  any "allegations of illegal activity, improper conduct, or organizational mismanagement".
https://www.artwatchinternational.com/wp-content/uploads/2017/11/2017-11-13-Thomas-Wilmer-Dewing-The-White-Dress.jpg
3124
4902
Ruth
https://www.artwatchinternational.com/wp-content/uploads/2017/09/Artwatch-International-300x138.jpg
Ruth
2017-11-13 17:47:45
2017-11-13 17:47:45
Museum Mismanagement On Trial: The Berkshire Museum Taken to Court.