Ruth Osborne
This week, French culture minister Aurélie Filippetti, Louvre Director Jean-Luc Martinez, and several other directors of French museums gathered at the Abu Dhabi Art festival to announce the official opening day for the Louvre's new international arm, to be called "Louvre Abu Dhabi."
This museum is set to open on December 2, 2015, which will also coincide with the celebration of UAE's National Day.[1]  Similar to the Louvre's other branch, Louvre-Lens (in Northern France), Louvre Abu Dhabi will be host to a continuous series of paintings, sculptures, and other works on long-term loan from the Louvre's central building in Paris.
The Guggenheim Abu Dhabi, announced in 2006 but now set to open in 2017, is of the same ilk. Connected to the mainland by a bridge, similar to the plans for the Louvre Abu Dhabi, this Gehry-designed building will house exhibitions featuring works from the Guggenheim Foundation's permanent collection, as well as displaying its own. The new Guggenheim and Louvre annexes are all part of the Saadiyat Island conglomerate of cultural centers: including the Zayed National Museum (helped along by the British Museum), a maritime museum, and a performing arts centre designed by Zaha Hadid[2],  who recently and controversially amended a fine neo-classical building in Hyde Park that had been taken over by the Serpentine Gallery.
This development was first reported in 2007, as part of a 30-year major cultural collaboration between France and UAE in the interest of a political alliance drawn up between the two nations that same year.  Arts blogger CultureGrrl (Lee Rosenbaum) commented on her state of alarm at the large bundle of loans set to head out to Abu Dhabi: "People always said that [then-Guggenheim Director] Tom Krens was a 'visionary.' But I suspect that even he did not envision how far this would go."[3] Alan Riding of the New York Times provided a detailed breakdown of the hundreds of millions of dollars exchanged between the head of this contract, the new International Agency of French Museums, and the Abu Dhabi branch in their use of the "Louvre" brand, displaying works from its permanent collection, and housing temporary loan exhibitions.
As the Museum's website declares, this site will be "a unique, universal museum" where pieces from a range of French museums (including Versailles, Musée d'Orsay, Musée Guimet, BnF, and Centre Pompidou) will serve as the answer to a long-anticipated "place of discovery, exchange and education." Likening the opening of the new Abu Dhabi museum to ushering in a modern-day Enlightenment, visitors will experience the "shared universal memory" appropriate to a region known historically as a "crossroads for civilizations."  The long-term loans from France are set to only last 10 years, after which Abu Dhabi will have formed the basis for its own art collection.[4]
This French benevolence to the UAE makes European "savoir-faire" into a sort of parent to the adolescent aesthetic sensibilities of a rapidly-growing Abu Dhabi. As of this month, a list of 300 items from France's museums are being chosen for loan, while a twenty-first century gallery is intended to house examples of "Emirati culture and artists."  This Francophile institution, responsible for taking hostage numerous important items from the walls of France's greatest museums, promotes its purpose to heal past wounds between the East and West. The Louvre Abu Dhabi will therein "avoid the isolation of cultures and disciplines in order to offer a comprehensive history of art."[5]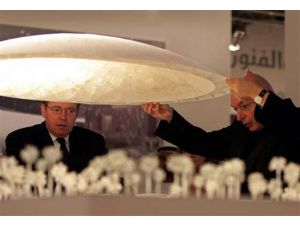 The Abu Dhabi site will be the second new annex of the Louvre to take form after the above-mentioned Lens in 2012, which The Art Tribune has picked apart for the holes its long-term loans have created in the Louvre's galleries.  As this critique of the Louvre as "a veritable Gruyère cheese" points out, only more neglect to the host museum's own galleries is in store as a result of its Abu Dhabi ambitions.[6]   Yet a more permanently-damaging consequence will be the impact of increased travel activity on works from the Louvre's collection. ArtWatch UK has ardently campaigned against the ravages of loaned objects in transit. We suppose that, for the first ten years of the Louvre Abu Dhabi, all one can do is wait reluctantly for the inevitable.
---
https://www.artwatchinternational.com/wp-content/uploads/2013/11/2013-11-21-Louvre-Abu-Dhabi-model.jpg
225
300
Nick
https://www.artwatchinternational.com/wp-content/uploads/2017/09/Artwatch-International-300x138.jpg
Nick
2013-11-21 22:30:07
2017-10-10 17:26:35
The Dismemberment of the Louvre: Travels to Louvre Abu Dhabi promise damages and leave Parisian Museum-goers in the Lurch