Beginning on the 4th of July, the famed sculptural monument of Mount Rushmore in South Dakota was cleaned in a matter of weeks, hailed by the press as a "facelift". Yet is was far more than a cleaning, it was a… pressure washing.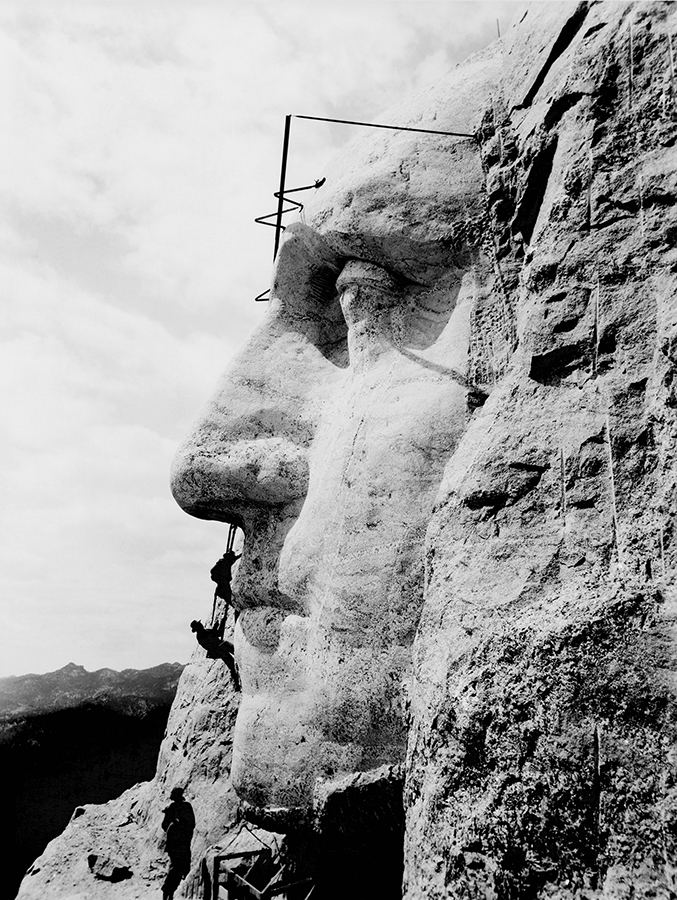 Featuring the 60-foot high likenesses of George Washington, Thomas Jefferson, Theodore Roosevelt and Abraham Lincoln, the monument was carved between 1927 and 1941 by sculptor Gutzon Borglum and team of 400 men from twenty-one granite blocks, containing many pre-existing cracks.
In addition to the purely cosmetic motive of removing accumulations of dirt, the project has been billed as preventative maintenance, emphasizing the threat caused by lichens growing on the stone, the roots of which could have eventually exacerbated cracks and destabilized the sculpture. Be that as it may, Mount Rushmore spokesperson Judy Olson has stated that prior to the onset of the recent campaign, there were no plans to clean the monument. This suggests that a) there was no urgent need, and b) that there were no extensive studies done regarding the effects of such a treatment. Olsen said, "When they said they would do it for free, that's when we started considering having this done."
"They" are Alfred Karcher GmbH & Co. KG (the Karcher Company), a German company that manufacturers consumer, commercial and industrial cleaning equipment. In a method that has been likened to a car wash, the team of approximately fifteen workers blasted near-boiling water onto the surface of the stone from five gas-powered pressure washers at the rate of 3000 gallons per day.
This is not the first time that the Karcher Company has donated their services. In fact, their world-wide campaign to pressure wash major monuments has been ongoing for two decades, totaling some eighty projects, including the base of the Statue of Liberty, the Brandenburg Gate in Berlin, the Statue of Christ in Rio de Janeiro, the Colossi of Memnon in Luxor, and the colonnade of St. Peter's cathedral in Rome, which they blasted with an "environment-friendly abrasive" for the Jubilee.
Using the tag-line, "Kärcher cleans the world!", the company's website promises that "No matter what has to be cleaned, Kärcher has the answer." Along with their sponsorship of Formula-One cars, Kärcher uses these cleaning projects to promote their company, and to test their equipment on various surfaces. The question must be asked, however, whether the availability of sponsorship dollars should be the determining factor of any intervention.
https://www.artwatchinternational.com/wp-content/uploads/2005/09/2005-09-15-Mount-Rushmore.jpg
400
600
Kenn Richards
https://www.artwatchinternational.com/wp-content/uploads/2017/09/Artwatch-International-300x138.jpg
Kenn Richards
2005-09-15 00:00:00
2017-11-02 12:26:16
Making-over Mount Rushmore